If any of the readers live in France or have close ties to France, please include your input.  I don't have expertise in France, but I'm aware that a revival of discrimination from certain politicians have made it very uncomfortable to fearful for immigrants living in France.  However, reading from the article, though from a British news source, the article doesn't indicate that the incident was based on discrimination and it's too early to tell.
I also read an article a few weeks ago about American agents who work on "catching" and deporting immigrants by knocking down the suspects' doors in the wee hours of the night (like 4am or so), to avoid people from fleeing.  This could be very dangerous, because the agents don't announce who they are or they announce who they've already busted the door.  Normal people would think that intruders are in their home, though correct, some people grab weapons to defend themselves and their families.  There's always someone injured or killed.  It's sad, but that's what normal people do.
However, returning to the incident in France, Asians don't typically voice themselves, but if they did, it's to protect their own, support each other, and show solidarity against the ones doing harm.  For those in France or have close ties to France, is this incident one for discrimination or is it too early to tell?
Police and protesters clash in Paris over death of Chinese man
Demonstration outside police station after man reportedly shot by officer at home in front of his children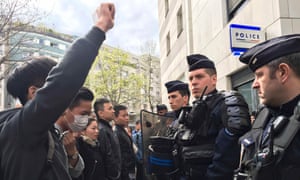 Violent clashes have broken out in Paris between riot police and protesters angry at the police killing of a Chinese man in his own home. Three police officers were injured and 35 demonstrators arrested, the French authorities said on Tuesday.
Shaoyo Liu, 56, was allegedly shot in front of his children while he was cutting up fish. Police say the officer involved in a raid on the property on Sunday fired in self-defence after Liu wounded an officer with a "bladed weapon".
Liu's family says it "totally disputes" this account. His daughter told French journalists her father spoke little French and had been at the door of their home holding a pair of scissors that he had been using to descale fish for the family dinner.
"Around 8pm my little sister heard a knock at the door. She looked through the glass and she saw two men and a woman who were armed," she said. "My father went to the door with the scissors he was using for the fish. The knocks on the door got louder and louder. I shouted, 'calm down, make less noise,' but they took no notice.
"They smashed the door in, the shot went off and my father ended up on the floor," she told Le Parisien.
The girl, who was not named, said the family was ordered to stay in the room while the emergency services tried to save the father.
On Tuesday, the French authorities said they had opened an inquiry into the shooting and also into the alleged "attempted murder" of the police officer.
On Monday evening, about 150 protesters, mostly from the local Asian community, gathered outside the police station in the 19th arrondissement, chanting "murderers" and using candles to spell out the words "opposition to violence". An angry group broke down barriers set up by police, threw missiles at officers and set fire to a vehicle.
Beijing has summoned a French diplomat for an explanation and has demanded France fully investigate the death and assure "the security and the rights" of its citizens in France.
About 100 people from the Chinese community in Paris gathered at a police station on Tuesday morning. "Justice must be done, the killer must be punished," the protesters shouted in French.
Shaoyo Liu's family was expected to be interviewed by police on Tuesday afternoon.
The latest incident of alleged police violence comes days after thousands of people marched in Paris in a show of anger over the alleged rape in February of a young black man by police.
Hua said Chinese authorities "hope that Chinese nationals in France can express their wishes and demands in a reasonable way".
https://www.theguardian.com/world/2017/mar/28/police-and-protesters-clash-in-paris-over-death-of-chinese-man