From Bloomberg News.  Visit the source (link at the end) to watch a video.
China's Downgrade Could Lead to a Mountain of Debt
May 24, 2017
The downgrade of China's debt by Moody's Investors Service may push Chinese companies to borrow even more money from domestic banks as overseas debt becomes more expensive, increasing risks for the nation's finance industry.
With growing indebtedness at home, compounded by a slowing economy, there's a risk of a "negative feedback loop," said Khoon Goh, head of Asia research for Australia & New Zealand Banking Group who sees state-owned enterprises and property developers feeling the biggest impact. The downgrade will particularly hurt airlines and shipping companies, said Corrine Png, chief executive officer of Crucial Perspective in Singapore.
Mainland firms "will need to go back to the Chinese banks in order to get loans," ANZ's Goh said. "That means that Chinese banks will grow more exposed to the corporate sector."
Since the start of the global financial crisis, Chinese companies have borrowed to keep the economy growing, pushing corporate debt to 156 percent of gross domestic product, from 100 percent in 2008, according to Bloomberg Intelligence. Most of that debt is held by state-owned enterprises, putting the government on the hook in case of defaults.
Citing a worsening debt outlook, Moody's lowered China's rating to A1 from Aa3 on Wednesday, the same level as Japan and the Czech Republic. "The economy is dependent on policy stimulus and with that comes higher leverage," Marie Diron, associate managing director, Moody's Sovereign Risk Group, said on Bloomberg Television after the announcement. "Corporate debt is really the big part."
The move, which the Finance Ministry blasted as "absolutely groundless," may add to pressure on mainland companies to fall back on the local debt market, reinforcing risks that have been roiling the nation's financial markets.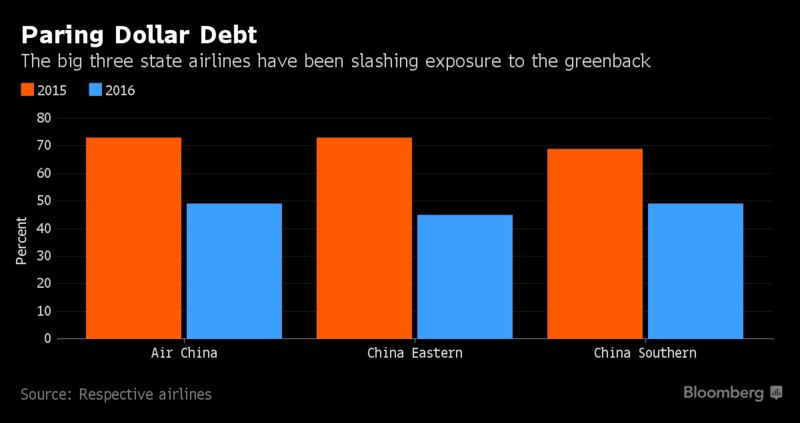 The downgrade may have angered the Chinese government, but some of the country's biggest companies have been preparing themselves. China's three major state-owned airlines have been reducing their dollar debt exposure and borrowing more onshore.
Sales of yuan bonds by Air China Ltd., China Eastern Airlines Corp. and China Southern Airlines Co. jumped more than threefold last year to 135.4 billion yuan ($20 billion), according to data compiled by Bloomberg.
Airlines and shipping companies are vulnerable "as they generally finance their new aircraft and vessel capital expenditure with debt," said Crucial Perspective's Png. Every percentage-point increase in average borrowing costs can cut net profits for the major Chinese airlines by 5 to 9 percent, she said. For shipping companies, the impact is 15 to 30 percent.
Hainan Airlines, controlled by aviation-to-hotels conglomerate HNA Group Co., plans to buy 19 Boeing aircraft, using the proceeds of a convertible bond sale of up to 15 billion yuan, according to a statement to the Shanghai Stock Exchange on May 19. HNA itself has been one of China's most acquisitive companies, with more than $30 billion worth of announced and completed deals since 2016, including CIT Group Inc.'s aircraft leasing business, technology firm Ingram Micro Inc. and a stake in Hilton Worldwide Holdings Inc.
Aircraft and ship leasing companies like COSCO Shipping Development Co., China Development Bank Financial Leasing Co. and China Aircraft Leasing, will also "try to pass on their higher financing cost to the airlines and shipping companies via higher aircraft and ship leasing rates," Png said.
To read Gadfly column on why the timing of the cut is puzzling, click here
A representative for Air China said the carrier hasn't issued U.S. dollar bonds overseas for a while and its aircraft leasing and buying is not funded by the securities. Chief Financial Officer Xiao Feng said in March that the carrier's U.S. dollar debt exposure will fall to 35 percent this year. Representatives for China Eastern, China Southern and Cosco didn't respond to requests seeking comment, while a representative for China Aircraft Leasing said the rating downgrade would have no impact on the lessor.
Even before the Moody's announcement, some Chinese companies were struggling to adjust. Ambitious conglomerate LeEco, which last month scrapped a proposed $2 billion acquisition of Californian TV maker Vizio Inc., has struggled to raise funds and plans to lay off more than 300 employees in the U.S., keeping about 50 people.
"The challenges with raising new capital have made it difficult in the past few months to support all of our business' priorities," LeEco said in a statement on May 23.
S&P Action
More bad news for China may be on its way from rival agency S&P Global Ratings, which in January maintained a negative outlook for the country and warned of a possible downgrade in the coming months. In response to a request for a comment, S&P referred to its January statement on the negative outlook.
The yield premium on investment-grade notes from Chinese firms over government securities rose 1 to 2 basis points Wednesday after the Moody's move, according to credit traders who aren't authorized to speak publicly. Those spreads had already increased 10 basis points this quarter to 268.3, up from a decade-low of 257 in March, according to JPMorgan Chase & Co. indexes. Moody's also downgraded the ratings of 26 non-financial corporate and infrastructure government-related issuers by one level.
The "market will be watching for any action from S&P's which could be the next to move," Suan Teck Kin, a senior economist at United Overseas Bank Ltd. in Singapore, wrote in a report published Wednesday.
Leverage Problem
Still, President Xi Jinping's government has significant advantages as it tries to limit damage to the economy from indebted companies. Limited exposure to external debt and a semi-closed capital account would give the administration time to deal with the leverage problem, Credit Suisse Group AG analyst Vincent Chan wrote in a report published Wednesday.
The same day Moody's announced the sovereign downgrade, the agency reaffirmed its A1 rating for Beijing Infrastructure Investment Co., because of the support the company has from the central government.
"BII will continue to play a critical role in executing Beijing's public transport policies; specifically, in its ownership, building and operating of Beijing's subway and rail system," Moody's vice president and senior analyst Ada Li said in a separate statement. "The company will therefore continue to receive ongoing and predictably high levels of fiscal support" from the government.
Representatives listed on the company's website couldn't be reached for comments.
"It is difficult to envisage China getting into a financial crisis situation similar to other Asian countries in 1997 and some European countries in past few years," wrote Credit Suisse's Chan. "However, whether the Chinese government would have the determination to push through necessary reforms and tolerate a further economic slowdown to solve the rising leverage problem is still a big unknown."
— With assistance by Bruce Einhorn, and Dong Lyu
https://www.bloomberg.com/news/articles/2017-05-24/china-downgrade-may-build-debt-mountain-as-firms-borrow-at-home